Back
Previous product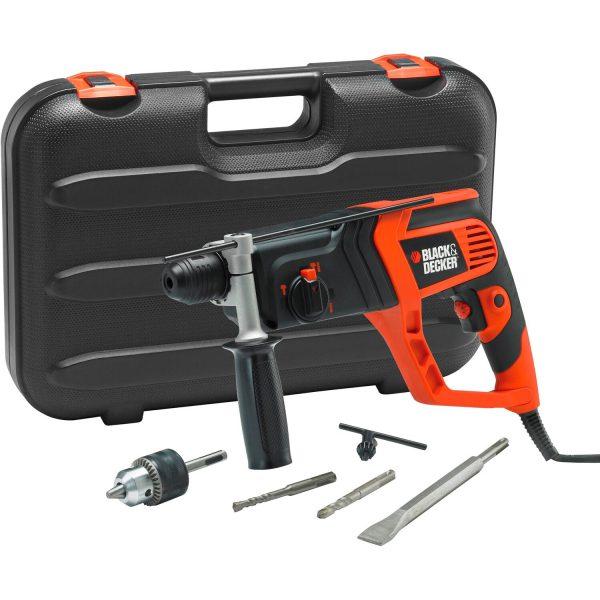 Black & Decker, Hammer Drill 800W, 24mm Sds Plus 220 Volt
580.00

SAR

inc. VAT
Black & Decker, Automotive Tool Set – 76 Pieces With Soft Roll Bag
SKU: BDA7063

195.00 SAR inc. VAT
Black & Decker A7063
Product Features:
76 Piece Tool Accessories Roll Bag
Set of 76 – Perfect for screwing and fixing work with easy and convenient access to accessories.
Space-saving storage in the roll-up tool bag with carrying strap, socket wrench, bits.
76 pieces Roll Bag Set – Ideal for mechanic's work.
Includes:
Screwdriver bits, Phillips: 1 (3pcs), 2 (3pcs), 3 (3pcs).
Screwdriver bits, Slot: 4 (2pcs), 5 (2pcs), 6 (2pcs), 7.2 (2pcs)mm.
Screwdriver bits, Torx: 10, 15 (2pcs), 20 (2pcs), 25.
Screwdriver bits, Pozidriv: 1, 2 (3pcs), 3.
Screwdrivers, Phillips: 1 (2pcs), 2 (3pcs), 3 (2pcs).
Screwdriver blade slot: 4 (2pcs), 5 (2pcs), 6 (2pcs), 7.2 (2pcs)mm.
Screwdrivers Torx: 10, 15, 20, 25.
12pcs Hexagon socket wrench set (1pc), Ring hole wrench: 8, 10, 12, 13mm.
Beak tongs (1pc), Tongs (similar to raw tongs small): (1pc), Plug – in adapter: (1pc).
Sockets:6,8,10,11,13,15,17 mm, Ratchet for pin nuts: (1pc), Magnetic indicator: (1pc)
Out of stock